Class Information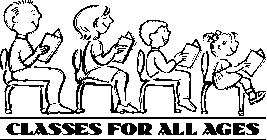 In addition to our Worship Services, East Phoenix Church of God has Sunday School and Wednesday night classes for people of all ages .

These classes are divided into age groups to provide everyone a positive atmosphere in which to learn the teachings of the Holy Bible.

Sunday School Classes available:







Wednesday Night Classes available:



We welcome you to join us for any of our classes and Worship Services. For more information about a particular class or classes, simply click on the links above.

© 2002 East Phoenix Church of God